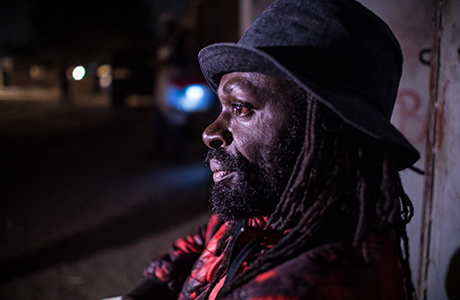 Photo © Renaud Barret.
Freddy Bienvenu Tsimba (Kinshasa, 1967) studied monumental sculpture at the Académie des Beaux-Arts de Kinshasa, obtaining his degree in 1989. He then trained for 6 years with master founders in Kinshasa, Kongo central, and Bandundu. Tsimba works with bronze and scrap metal.
The independent and engaged Congolese artist is deeply attached to human rights, particularly those of the most fragile ‒ mothers and children. He exposes the tragedy of war and the ravages of violence over time. But he is also an advocate of peace and resilience, paying magnificent homage to women and to life.
Today, Freddy Tsimba is known and renowned in Kinshasa and the international art scene, famous for his sculptures made from casings and cartridges and for his machete houses. He has participated in several editions of the Biennale de Dakar (2002, 2006 and 2008) as well as group exhibitions such as The Divine Comedy (2014), Kongo am Rhein (Basel, 2017) and Afriques Capitales (Lille, 2017) under the aegis of Simon Njami.
Artist-in-residence
Freddy Tsimba was the artist-in-residence at the Royal Museum for Central Africa in 2016. During the residency, he created two works for the museum's reopening: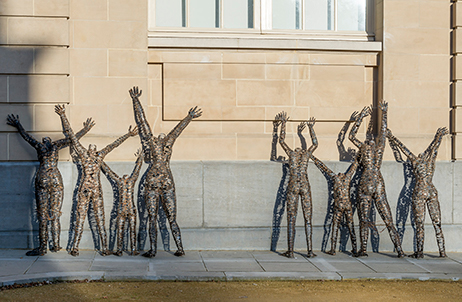 Eight figures face the museum's wall. The series pays tribute to refugees, to those turned away at the border, and to victims of violence past and present. . 
Freddy Tsimba (1967), Centres fermés, rêves ouverts (Closed centres, open dreams), Tervuren, 2016. Rebar from the Tervuren construction site, spoons from Kinshasa. IL.2016.10, collection RMCA Tervuren ; photo J. Van de Vyver © RMCA.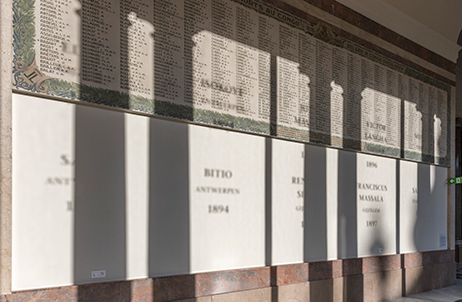 With 'Shadows', Freddy Tsimba uses light as a medium for the first time. Here he recalls the memory of Congolese victims of colonization. The work can be found in the museum's memorial gallery.
Freddy Tsimba (1967), Ombres (Shadows), Tervuren, 2016. 2016.45, collection RMCA, Tervuren; photo J. Van de Vyver © RMCA.