Freddy Tsimba comes from the line of Master smiths that emerged during the age of copper, in Sudan, well before the Iron Age began. The smith made people's wishes come true: riches for the dowry, in the form of konga; sustenance, in the form of tools; and the ability to defend and protect, in the form of arms. Among the Mongo, the master smith was also the head of the clan, as exemplified by the Penge chief Inkoli Botuli. His youngest daughter was Inkoli Bofane, the mother of In Koli Jean Bofane. Freddy Tsimba is a demiurge using his gift to transform our emotions and thinking. (In Koli Jean Bofane)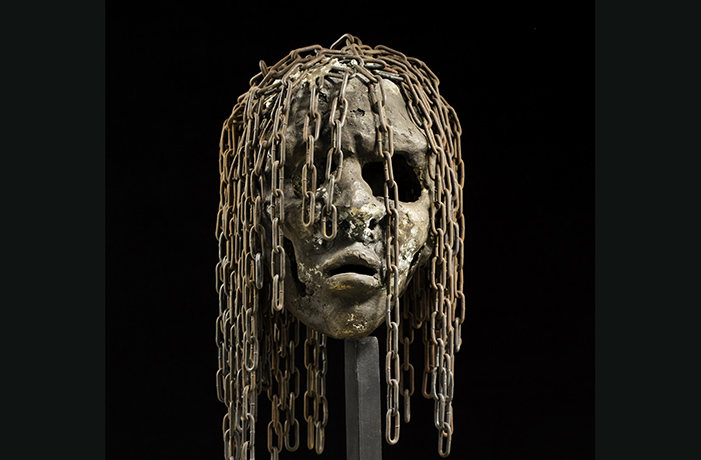 The head with chains for dreadlocks is one of a series of several dozen heads in copper and brass, from the forge of artist Freddy Tsimba. For this series, the artist-smith melted casings and scrap metal.
Freddy Tsimba (1967), Series Rescapés, (Survivors series), no. 512. 2016. Melted casings, chains. Private collection. Photo J.-M. Vandyck © RMCA Tervuren.
Face to face
From the moment one enters the exhibit, the piece is found facing a Dipola mask (Salampasu culture) from the museum's collection. The mask, covered in copperplate, comes from the Ngongo Munyenge secret society. The messenger of ancestors and spirtis, it goes out at night to appeal for abundance, prosperity, healing, fertile women and lands, and good hunting and fishing. It only goes out in daytime upon the death of an initiate, so it can commune with ancestors. The mask wearer holds a double-edged knife. He can go wild and kill. To prevent this, another initiate holds a stick to block his path. (Henry Bundjoko)
Dipola. Mask. Masuika, Kasaï central, RD Congo. [Salampasu]. Before 1950. Wood, red copper, brass, plant fibre, pigment, turaco feathers. Gift from H. Bogaerts, 1950. EO.1950.14.6, collection RMCA Tervuren; photo J.-M. Vandyck © RMCA Tervuren.